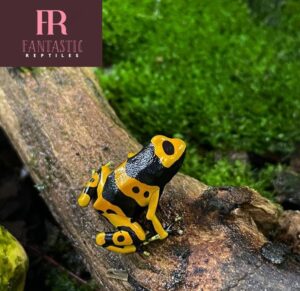 Dendrobates Leucomelas For Sale Defining Characteristics:
Great beginner frog
Contrasting yellow and black coloration
Bold | Easy to breed
Loud, pleasant call
Large
Can be kept in groups
Name: Dendrobates leucomelas for sale. Leucomelas literally translates to white and black, due to the original specimen described presumably blanched of color from preservation. In the hobby, Dendrobates leucomelas are often called bumble bee dart frogs, yellow banded poison dart frogs, leucomelas, or simply 'leucs'.
dendrobates leucomelas for sale   Reproduction
During the courtship that takes place between one and two hours after sunrise and before sunset, the male emits chirps, buzzes and trills while showing his body to attract the female. The latter then follows the male she has chosen, rubbing her back and muzzle against him . The female, which can lay between 100 and 1,000 eggs per year, produces 2 to 12 with each clutch .
 The eggs, which are usually laid on leaves , are then kept in a sheltered, moist place by the male who turns them from time to time so that they can receive enough oxygen . Egg hatch occurs approximately 10 to 14 days after being fertilized . The tadpoles are then carried on the back of the male and deposited in small patches of water where they continue their development . Tadpoles can thus be found in epiphytic plants such as bromeliads . Unlike the genus Hyloxalus also attached to the Dendrobatidae family, the tadpoles of Dendrobates leucomelas do not feed on eggs, however accepting almost any other food  .