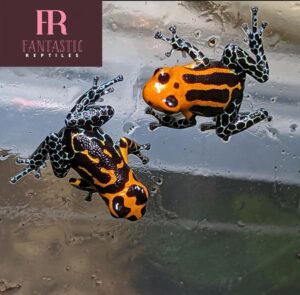 Defining Characteristics:
Great beginner thumbnail
Bright, variable coloration
Bold | Easy to breed
Quiet call
Small
Great in Pairs or Groups
Name: Ranitomeya imitator varadero for sale. Formerly known as Dendrobates imitator, this frog is commonly known as the Mimic Poison Dart Frog due to it's apparent mimickry of thumbnail species that occur sympatrically. Commonly called varaderos in the hobby, these are a small, spectacularly colored poison dart frog.
Description
Ranitomeya imitator varadero is a small frog, with adults ranging from 17 to 22 mm (Symula et al. 2001). Dorsal skin is granular. The first toe is clearly differentiated. Digital discs are expanded as with other dendrobatids, with finger discs being at least twice the width of the finger base (Schulte 1986). Coloration is quite variable depending on the population, as this species mimics both color and pattern of several other sympatric (co-occurring) species of poison frogs (Symula et al. 2001).
Ranitomeya imitator near Tarapoto, Peru, closely resembles the sympatric species Ranitomeya variabilis. Both species have yellow reticulation over a black background on the head, dorsum, flanks, and forearms, resulting in the appearance of large black patches surrounded by yellow . On the venter and legs, both species have blue-green reticulation over a black background, resulting in the appearance of small black patches surrounded by blue-green. They can be distinguished by the patterning of the black spot on the nose; in R. imitator this spot is split in half by gold reticulation, whereas it is solid in R. variabilis (Schulte 1986; Symula et al. 2001). In addition, differences in calls and in egg coloration distinguish the two species (Symula et al. 2001).
Like most other Ranitomeya species, R. imitator has a mild toxicity compared to other poison dart frogs. It produces the potent pumiliotoxin B, but its small size limits the amount of poison it can secrete. Like other poison dart frogs, it does not produce toxin in captivity. It probably gains its poison from consuming toxic insects or other invertebrates in the wild. Frogs of the related genus Phyllobates may derive their toxins from local melyrid beetles of genus Choresine.